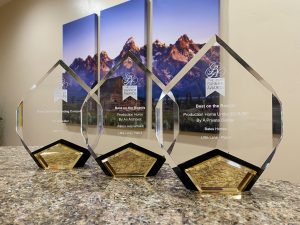 CREATING PLACES YOU WILL LOVE
At the core, it seems simple: curate and build homes for comfort and livability.
Behind the scenes, it is much more.
An interconnected network of intelligent, creative minds are hard at work refining distinct architectural aesthetics, leading the best in modern design, and planning unparalleled neighborhoods. The result: an inspired home that represents time-honored craftsmanship, attention to detail, and contemporary style, in a thriving locale.
GOOD TOGETHER
As a family-owned company, we offer a pleasurable home buying environment. With an elevated focus on the homebuyer, our team of specially qualified professionals work in step with you from your first visit, in-person or virtually, to presenting you the keys, and everything in-between and beyond.
TRANSCENDING TRENDS
Our lifestyle homes offer enriched living through high-quality materials, luxe-inspired finishes, and flexible architectural solutions for the way we really live. Think an organized approach to abundant natural light, ample storage, and boundless room possibilities.
This all equates to the Bates Homes' signature style and a home that is undeniably yours.
THE LEGACY
We have been dedicated to craftsmanship and care for over seven decades and we love what we do. Our family builds homes that challenge the norm with livable designs. We bring a passion and perspective that no one else can, providing direction on every design element. It is personal to us and that translates to what is greatly important and personal to you – an innovative, luxurious, high-quality home that you love.
AWARDS & ACCOLADES
The Builders Association of Northern Nevada has recognized Bates Homes for excellence in homebuilding year after year. Each of the Bates Homes Northern Nevada new home communities has been awarded for superior architecture.